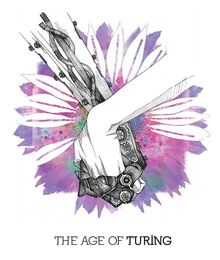 Project Website - http://www.ageofturing.com/
Project Twitter - https://twitter.com/ageofturing
ARchimeral Website - http://www.archimeral.com/
From the Project website - We are living in a time in which many of Turing's predictions have come to pass. The legacy of his work extends vastly through the field of computer science, including cryptography and artificial intelligence. He is the quintessential unsung hero to all of us misfits who dream of what our digital future still holds for all of humanity.
This project is an attempt to honor Turing by telling the story of his legacy and how his work has affected millions all over the world, from how robotics are currently helping autistic children, to how minorities are being empowered to transition from outcasts to technological entrepreneurs.
----
From - http://www.ageofturing.com/blog/2015/8/13/archimeral-inc-launches-interactive-experience-the-age-of-turing "The Age of Turing" is a multi-platform interactive game experience about the future of human and AI interaction. Produced by ARchimeral Inc., the experience launches Thursday August 13th and plays live for about 8 weeks. Players can subscribe online for free to solve the mystery surrounding the first sentient artificial intelligence."